U-KN-3 KNIVES FROM INTERCODEV
THE OFFICIAL NORTH AMERICAN DISTRIBUTOR OF

ERGONOMIC HAND TOOLS
Stirex tools help avoid occupational injuries and optimize production
Stirex knives are designed to minimize occupational injury from repetitive use by decreasing the physical demands and providing enhanced stability and greater force with reduced effort.Stirex knives are designed for a power grip by placing the wrist in an ergonomically correct position allowing for maximum force with minimal effort.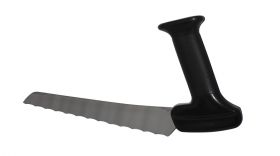 U-KN-3 BREAD KNIFE, LARGE
Ergonomic knife suitable for cutting large bread. The grip handle is large as on all our U-models.
Grip handle: 26x32 mm
Total height of grip handle: 134 mm
Blade: 170x1 mm
Total length: 255 mm
All of our knives are designed with the center of gravity aligned with the center of the gripping hand. The grip is angled to place the wrist in a neutral position allowing maximum cutting power from the arm to be transferred to the center of the blade with minimal effort. Stirex knife handles comfortably extend across the entire width of the palm and limit unnecessary compression of soft tissue in the palm and fingers.
CALL OR EMAIL FOR MORE INFORMATION OR TO ORDER